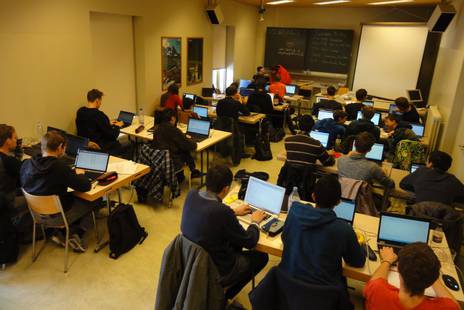 This year we were pleased to invite the twelve best-performing participants from this year's first round as well as three guest delegations from Slovakia, Russia and Israel.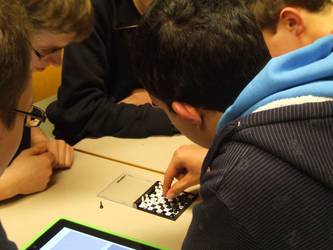 Once assembled in the snowy mountain resort, we started with a few introductory board games and trivia quizzes to get to know each other. Right after dinner some first programming challenges waited to be solved. Every night from seven to ten a practical contest took place. The participants tried to solve four or five IOI-style tasks in this short time or attempted to tackle at least some of them.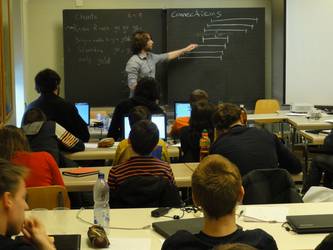 After a first night of little sleep we enjoyed a healthy breakfast at our accommodation, the 'von Sprecherhaus' in Davos Wolfgang. We took the Bus to our venue during the day: the Swiss alpine middle school in Davos (SAMD). We started each day with some theoretical warm-up tasks, that had to be solved and analyzed on paper.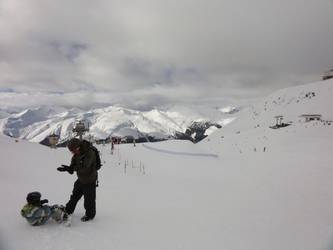 During the morning a series of lectures was offered. The international leaders, the SOI organizers as well as guest lectureres from search.ch, Google and ETH Zurich explained useful skills and tricks for programming competitions as well as research and fun topics.
The afternoons were made at everyone's free disposal - a perfect opportunity to deepen the knowledge acquired in the morning lectures or to go out and go skiing or snowboarding. After all that is what Davos is also famous for.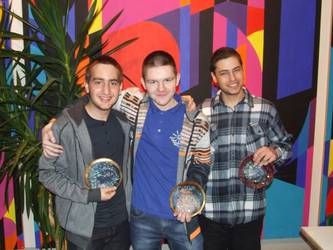 On Friday, the last day of the camp, a full five hour contest took place, the so called Davos I-Cup. The tasks were all inspired by the concurrent winter Olympics in Sochi. After checking the poeticity (yes that is a word) of chants to cheer the athletes, the participants had to write a program the evaluates the scoring table of a new sport. They also had to keep an eye on the ever-rising hotel prices in Sochi and come up with good flag alternatives for the Olympic rings.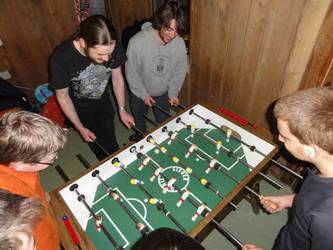 In the end Tom Kalvari from Israel and Petr Smirnov from Russia succeeded in solving all four problems completely and deservingly received a gold medal. Ohad Klein from Israel got 360 out of 400 points and was awarded a bronze medal. Special prizes were also awarded on the last evening for the participants that managed to solve the cryptographical and reverse-engineering puzzles posed throughout the week.
We concluded the camp with a last round of board games and some nice cakes and some Bünder Nusstorte. Not to forget the bus loads of Swiss chocolate that some of the participants bought to take back home.