First gold medal at the European Girls' Olympiad in Informatics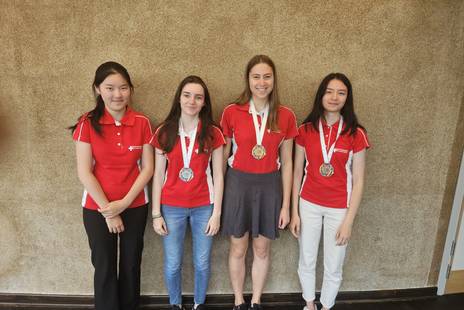 The European Girls' Olympiad in Informatics, or EGOI for short, was launched in Switzerland in 2021 with the aim of encouraging young women in their interest in informatics. Now the founding country has its first EGOI gold medal: at the third edition of the competition in Lund, Sweden, Jasmin Studer (Gymnasium Lerbermatt, BE) from Erlach, Switzerland, made it to 10th place out of nearly 200 participants. For this achievement, she received a gold medal, an award she narrowly missed out on last year in Turkey.
Hannah Oss from Thal (Kantonsschule am Burggraben, SG) took silver. She was also able to top her performance from last year. Vivienne Burckhardt from Binz (Mathematisch-Naturwissenschaftliches Gymnasium Rämibühl) won bronze. The team was completed by Hongjia Meng from Altdorf (Cantonal Secondary School Uri).
The motivation lies in the togetherness
Those who want to do well at the EGOI need not only logical thinking and creativity, but also a certain amount of stamina. The participants qualify for the Europe-wide competition through strong performances in the national selection. They invest their free time to practice programming and acquire the necessary prior mathematical and algorithmic knowledge - for example, at this year's Girls Camp of the Swiss Olympiad in Informatics, which took place from June 11 to 17. When asked about their motivation, the participants have two answers: the joy of puzzling and the social contacts. "Solving the problems is just mega fun, but if you then also meet other people at an event like the EGOI with whom you can solve problems or do other things together, then it's even better," says Jasmin.
Algorithmic puzzling
The tasks at EGOI are spread over two five-hour exams each and often wrapped up in little stories. One task, for example, was set in the treasury of a palace, where a guard moves boxes full of sweets so that those with lots of sweets are close to the entrance gate, where travelers can buy them with gold. Behind this is a tricky puzzle that the participants have to abstract and solve algorithmically. In order for the solution to be implemented by the computer, the participants must be able to handle programming languages and correct errors. "The tasks were generally fun and I enjoyed thinking about them, but I was unlucky on the second day of the competition," Hongjia says. "It was still a valuable experience and now I know how to deal with runtime errors." What she will remember most, however, is the exchange with fellow competitors from all over the world, which was stimulated by a social program consisting of visits to the zoo, trips to the beach, games and karaoke.