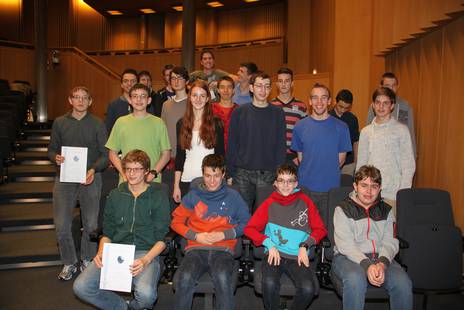 Congratulations to all participants who qualified for the second round or even our training camp in Davos.
We had a SOI day full of interesting talks, an intense 'cops and robbers' tournament and some great prizes.
Find out more in our press release and take a look at the picture gallery.
Results First Round
The following participants qualified for round 2:
| Rank | Participant | Points (max: 60) |
| --- | --- | --- |
| | Fabian Lyck | 50 |
| | Timon Stampfli | 48 |
| | Luca Mondada | 40.5 |
| | Raphael Fischer | 38.5 |
| | Ian Boschung | 37 |
| | Benjamin Schmid | 37 |
| | Kasimir Tanner | 33 |
| | Joël Mathys | 27 |
| | Lorenz Widmer | 25.5 |
| | Elias Boschung | 22 |
| | Zheng Chen Man | 22 |
| | Mugeeb Al-Rahman Hassan | 21.5 |
| | Kevin De Keyser | 21.5 |
| | Michael Moerschell | 20 |
| | Jonas Gude | 19.5 |
| | Noah Menzi | 18 |
| | Raphael Husistein | 13 |
| | Vincent Pasquier | 13 |
| | Marcel Würsten | 11.5 |
| | Gua Hao Khov | |
| | Ruben Jungius | |
| | Coralie Busse-Grawitz | |
| | Sandro Lutz | |
| | Hanna Müller | |
| | Miro Haller | |
| | Damian Berwert | |
| | Tim Matter | |
| | Jonas Anderhalden | |
| | Mihajlo Djokic | |