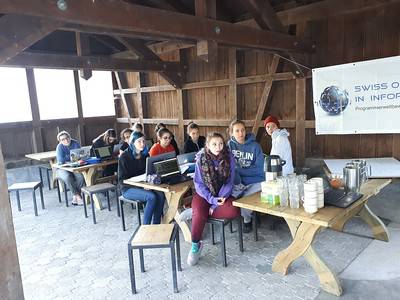 The Swiss Olympiad in Informatics organizes this year some girls only events. If you are interested, contact us at girls@soi.ch.
The starting event is a one week trainingscamp for girls this summer in Neuchâtel from 07.09.2020 - 12.09.2020. During one week we will take a look at some interesting topics from algorithmic and we will also learn how to implement them. Besides interesting lectures there will be enough time to get to know other interested girls from all over Switzerland. The camp is suitable for all experience levels, including complete beginners. The camp is free of charge for you, all expenses (including travel) are covered by our sponsors. Most schools support such events and will grant a leave. You can register here .
Further, EGOI, the European Girls' Olympiad in Informatics , is going to take place for the first time in Switzerland in 2021! A team of up to fours girls will be sent to the event and will be competing against other teams from other countries. You don't have to pay anything for those as well! To participate you need to qualify in the normal contest of SOI.
If you have any further questions about one of the events or about the Olympiad in general feel free to ask us.