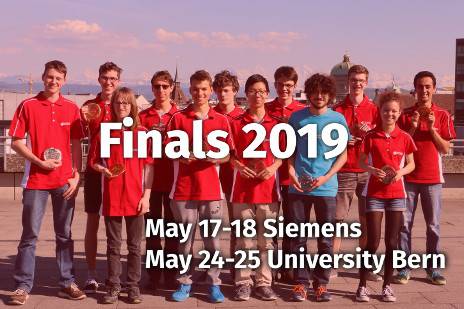 The finals take place on May 17/18 and May 24/25. Everybody is invited for the closing ceremony on May 25.
We are all looking forward to the final round of the Swiss Olympiad in Informatics which will take place on May 17-18 at Siemens in Zurich and on May 24-25 at the University of Bern.
The closing ceremony will be held on Saturday 25 May 2019 at 4 pm. After four competitions and a total of 20 hours of programming we will announce the winners. All families, teachers and friends as well as other interested persons are cordially invited to the closing ceremony. The ceremony will be located in the building of the exact sciences at the University of Bern. The detailed program can be found here: Invitation for the closing Ceremony 2019.
The 12 finalists are:
| Firstname | Lastname | School | Canton |
| --- | --- | --- | --- |
| Christopher | Burckhardt | MNG Rämibühl | ZH |
| David | Jenny | KSS | SG |
| Ema | Skottova | Gymnasium Kirchenfeld | BE |
| Jijingru | Yang | Gymnasium Neufeld | BE |
| Joël Benjamin | Huber | Kantonsschule Freudenberg | ZH |
| Kunyang | Wu | SAMD | GR |
| Micha | Buri | Gymnasium Kirchenfeld | BE |
| Nicolas | Camenisch | Kantonsschule Wettingen | AG |
| Rada | Kamysheva | SAMD | GR |
| Tim | Frey | Gymnasium Neufeld | BE |
| Tobias | Feigenwinter | Kantonsschule Schüpfheim/Gymnasium Plus | ZH |
| Valentin | Imbach | MNG Rämibühl | ZH |