Schweizer Delegation an der Baltischen Olympiade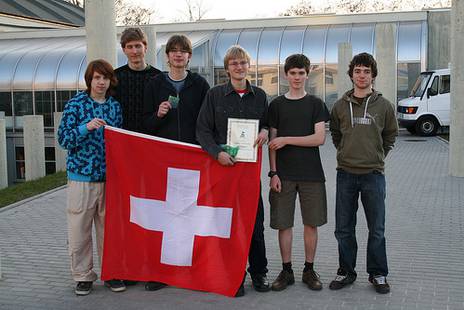 A Swiss delegation, consisting of four contestants and two leaders represented Switzerland as a guest country at the Baltic Olympiad in Informatics in Gdynia, Poland. These four programmers qualified during the Davos Training Camp:
Vladimir Serbinenko
Johannes Josi
Adrian Roos
Isaac Deutsch
Thursday, April 17th
After meeting very early at Zurich airport (10:00), we traveled with LOT Polish Airlines via Warsaw to Gdansk. There we were picked up by our guides Anna and Agnieszka, who were accompanied by the complete team from Norway. This team will be experiencing this BOI together with us. Their names in alphabetic order: Bjørn. After a short stroll at the beach - always a thrilling experience for anyone Swiss (no matter how rainy and gray the weather might be) - we had lunch in the local cafeteria. There we were served a local specialty that is best described as Pizza, but a little on the heavy side with regard to onions. Strengthened from this we settled down for a few rounds of Texas Hold'em in our Hotel. RA
Friday, April 18th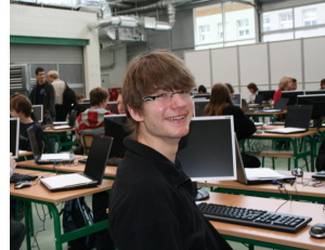 We started the day with an outstanding, delicious breakfast. After that, we went to the tech center, where the practice session and the contests will take place. There, we had the opening ceremony during which every country had to present its contestants, leaders and guides. Afterwards we had the practice session, which included quite difficult tasks for the Swiss contestants. Lunch was served at the Eureka restaurant in the tech center. JJ
Later, the program fashioned a so-called integration event during which people in two groups integrated apart from each other. Meanwhile the leaders had a meeting, which mainly consisted of voting over tasks and going to a restaurant. The participants on the other hand built bridges out of newspapers and asked each other if they collected postcards. Altogether, it was a fulfilling experience that was only surpassed by the Jumbo Burger we were served in town later that evening. IBD
Saturday, April 19th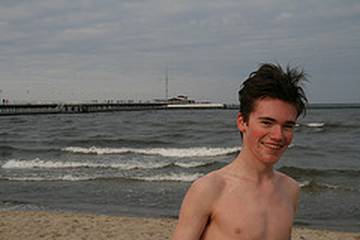 On the first day of competition we were «thrown into the cold water» so to speak: The difficult polish tasks proved quite difficult to tackle (I made 12 out of 300 points), but overall we're still keeping up to many of our international friends. Of course we're quite motivated to do better on Monday.
In the afternoon we went to Sopot, another city near Gdynia, where we enjoyed the warm weather at the beach. Afterwards we had the «my county» party where every team presented itself with a little show. We sang «Dert änet am bärgli» as well as a Norwegian song about sheep's wool we had just learned from Bjørn. Of course we also showed off with a perfect score on Germany's quiz. Later on that evening, our guides attempted to motivate us for some dancing (to which some of us humbly surrendered), while the rest of us was playing table games and challenging each other with logical riddles. JJ
Sunday, April 20th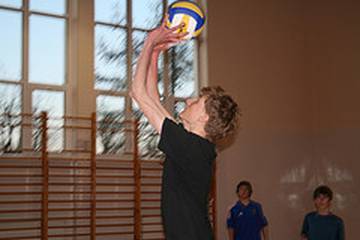 Today, we went on an excursion to a national park near Gdansk. Though supposedly a marvellous bird habitat, the residents unfortunately had not returned from their vacation just yet. Thus we went for a lengthy walk on the sandy beach, rounded up with ice cream at the local beach bar.
The afternoon was spent in the city of Gdansk. Directly after lunc we picked up the most important historical facts from our tour guide, before sneaking out five minutes into the tour. We spent a few peaceful hours with members of the polish team in a cafe, strolling along the riverside and sunbathing in a park.
In the evening we seized the gym of the local highschool to challenge both the German and the Polish team in a game of volley ball. Our outstanding team spirit and superior skills lead us to glorious victories, which will (hopefully) only be matched by our performance on tomorrow's second contest. RA
Monday, April 21st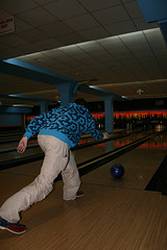 Our high expectations were met in today's contest: The team did an overall very good job, with the exception of Vladimir who outperformed almost everyone in the contest with his whooping 250/300 points. This outstanding result has definitely gotten him very far up the ranking, tough we will have to wait for the awards ceremony for the final results. Of course this triumph had to be celebrated - be it at the leader's dinner at a fine restaurant in Sopot or with the other contestants at the bowling alley of Gdynia.
Tuesday, April 22nd
On the last day of the BOI, a Lego Robot contest was held in the technology center of Gdynia. The swiss team subscribed together with - of course - Norway and representatives from Poland and Lithuania. The task was to build a robot that grabs six ping pong balls from a brick cave and returns them to the starting point. Our robot, though not as spectacular as some of the various constructions, excelled with a perfect score and even played its own victory tune after completing the task.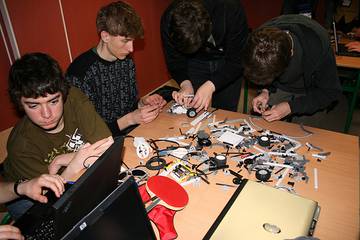 Medals for the Swiss Team
Not only did they exceed in quizzes, volleyball and the lego robotics cup, they also brought home a set of medals:
Vladimir Serbinenko was awarded a silver medal for his outstanding 6th rank
Adrian Roos won a bronze medal on his very first attendance to an international event The overall ranking can be found here under results.