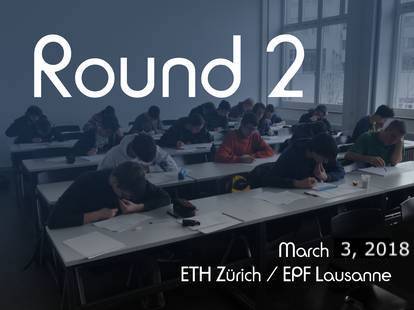 We are awaiting two exciting week ends: The second round consists of a theoretical (2T) and a practical exam, as well as our homework round. After the round has finished, we will announce the twelve finalists.
During the theoretical exam, the tasks will be solved with pen and paper. The exams will be held on Saturday, March 3rd either at the ETH Zürich or the EPF Lausanne. A total of 400 point can be reached.
The practical exam can be written from your home and has a variable starting time. It can be started at any time between Thursday, March 8th at noon or Monday, March 12th at 7pm on a website. After the contest has started, you will have 5 hours to solve the 4 tasks for a total of 400 points. Link and Logins will be announced later.
The third part is already running since the end of the first round. On our Homework Round (2H) you can secure up to 200 points in advance. The tasks are also a good preparation for the second round and the the finals.
Good Luck!